Deep Groove Ball Bearings
Deep groove, or single row , ball bearings are the most frequently used bearings. They use an uninterrupted raceway which makes them ideal for radial loads .This design enables precision endurance, even in high-speed performance.
Deep groove ball bearings are the most frequently used posture kind and therefore are especially versatile. They adapt radial and axial loads in both directions, are simple to mount, and need less maintenance compared to other bearing types.
The heavy groove ball bearing catalog lists a huge selection of designs, variations and dimensions of deep groove ball bearings. Beyond our catalog supplying, the SKF Explorer deep groove ball bearings are customizable to provide benefits for applications using particular performance requirements.
Deep groove ball bearings are most widly used. They can be used for gearboxes, motors, household appliances, internal combustion engines, automobile, etc. We can provide deep groove ball bearings of Z1V1, Z2V2, Z3V3 such levels.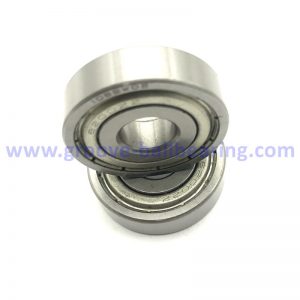 Dimensions: 10*30*8mm Mass:0.1kg/pc Material: Gcr15 steel Lubrication: Standard grease Closure: Metal seal on both sides Cross Interchange: 10BSW02, 10bsw02,  10*30*8, 10-30-8, 10x30x8 etc