Angular Contact Ball Bearings
Angular contact ball bearings belongs to high precision ball bearings, which revolving speed is very high. They are mainly used for machine tool spindle, high speed motor, gas turbine, centrifugal separator, automobile front wheel, drilling platform, etc. Angular contact ball bearings contains single row, double row and four point angular contact ball bearings.
Angular contact ball bearings have inner and outer ring raceways which are displaced relative to one another at the direction of the bearing axis. This usually means that these claws are made to accommodate combined heaps, i.e. concurrently behaving radial and axial loads.
The axial load carrying capability of angular contact ball bearings increases since the contact angle increases. The contact angle is defined as the angle between the line connecting the points of contact of the ball along with the raceways from the radial plane, and the joint load is sent from 1 raceway to the other, and also a line perpendicular to the bearing axis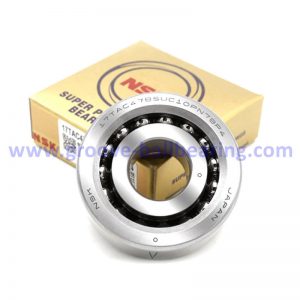 Size: 17x47x15mm Mass: 0.21kg B: High Capacity & Higher Speed (Replaces "A" Type) SU: Single Universal C10: Metric Series PN7B: Bore And O.D. Tolerance Is Tighter; Used With SU Combination. Category: Angular Contact Thrust Ball Bearings