We produce double row angular contact ball bearing structure and double row taper roller bearing structure wheel hub bearings.
Every automobile employs wheel bearings at each wheel to decrease friction. Most modern vehicles may use a heart assembly which has the wheel and hub bearing. Some older vehicles may use wheel bearings which are separate parts and are installed at the heart, rotor or spindle.
Some wheel bearings have been incorporated with the brake rotor, but many are not. Wheel bearings are crucial to decreasing friction between your wheel hearts as well as the spindle. Signs of wear can be tough to pin down, however a foolproof way to check would be to catch a suspended wheel from the top and underside, and trick it out and in to search for extra wear.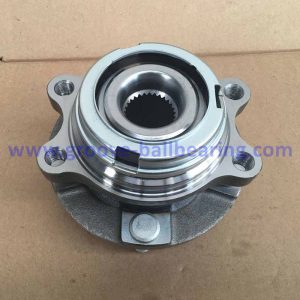 Model Number: 40202-CA06C, 40202-CA010, 513310, 713310 Application: Nissan Murano Mass: 3.3kg/unit Material: Chrome steel, Gcr15 Warranty: 1 year or 50000km Package: Individual paper box + carton