Spherical Roller Bearings
Spherical roller bearings have two rows of rollers, which mainly bear radial loads, but can also bear axial loads in any one direction. It has high radial load capacity, especially suitable for working under heavy load or vibration load, but it cannot bear pure axial load. The outer ring raceway of this type of bearing is spherical, so its alignment performance is good, and it can compensate for coaxiality errors. They are widely used in papermaking machinery, reduction gears, rolling mills, crushers, vibrating screens,etc.
Spherical Roller Bearings are made to operate in applications where acute misalignment exists if from lifting or shaft deflection and also comparatively heavy radial loads and a few axial loads in either direction. They're also very resistant to shock loads and their self-aligning feature permits complete capacity loading despite rotating shaft deflection. They're extremely similar in purpose to Self-Aligning Double Row Ball Bearings, but that the Spherical Roller Bearings are supposed to be robust by transport heavier loads but in reduced maximum speeds. These bearings have barrel-shaped rollers between the internal ring, which have 2 raceways, as well as the outside ring, which have one curved raceway. They're self-aligning, since the middle of curvature of the outer ring raceway surface disagrees with the posture.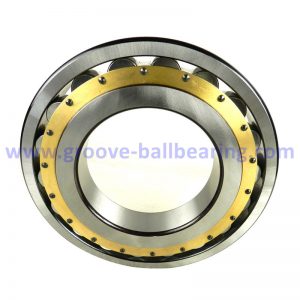 Inner (d): 200mm Outer (D): 360mm Width (B): 58mm Weight: 26.60 KG Number of Row: Single Row Interchange: 20240MB, 20240-MB, 20240 MB: Solid Brass Cage, Guidance On Inner Ring