Other Ball & Roller Bearings
We can provide other ball and roller bearings. For example, self aligning ball bearing, thrust ball bearings, needle roller bearings, eccentric roller bearings, combined roller bearings and thrust roller bearings.
Self-aligning ball bearings have two structures: cylindrical bore and tapered bore. Cage material can be steel plate, synthetic resin, etc. Its characteristic is that the raceway of the outer ring is spherical, with self-aligning property, which can compensate the error caused by the misalignment and shaft deflection, but the relative inclination of the inner and outer rings shall not exceed 3 degrees.
Needle roller bearings are roller bearings with cylindrical rollers, which are thin and long relative to their diameter. We call this kind roller as needle roller. Despite the small cross-section, the bearing still has a high load bearing capacity.
According to the force, we can divide thrust ball bearings into one-way thrust ball bearings and two-way thrust ball bearings. One-way thrust ball bearings can bear one-way axial load. Two-way thrust ball bearings can bear two-way axial load, in which the shaft ring and the shaft are matched. The mounting surface of the seat ring is a spherical bearing with self-aligning performance, which can reduce the influence of installation errors. Thrust ball bearings cannot bear radial load, and the limit speed is low.
All of our bearings have passed ISO9001: 2015 certificate. Moreover, we accept sample order to test quality. For common bearings models, we have large stock with fast delivery.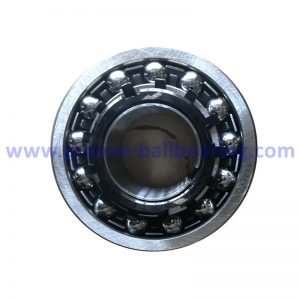 Model Number: 11309, 1310K+H310 Size: 45*110*27mm Weight: 0.95 kg/pc Category: self aligning ball bearing Material: chrome steel, gcr15 Number of Row: double row