Cylindrical Roller Bearings
Cylindrical rollers and raceways are linear contact bearings. Load capacity is strong and mainly bear radial load. The friction between the rolling element and the retaining edge of the ring is small, suitable for high-speed rotation. According to whether the ring has ribs or not, it can be divided into single row cylindrical roller bearings such as NU, NJ, NUP, N, NF, and double row cylindrical roller bearings such as NNU and NN. This type bearing has a separable inner ring and outer ring.
Cylindrical roller bearings can be found in a vast assortment of layouts, collection, variants and dimensions. The principal design differences would be the range of roller rows as well as the inner/outer ring flanges in addition to cage designs and materials.
The bearings may meet the challenges of software faced with heavy radial loads and high rates. Accommodating axial displacement (except for bearings with flanges on either inner and outer rings), they supply high stiffness, low friction and long battery life.
Cylindrical roller bearings are also available in split or sealed designs. In sealed bearings, the rollers are protected from contamination, dust and water, while supplying lubricant retention and contaminant exclusion. Split bearings are meant primarily for posture structures that are not easy to get, such as crank shafts, where they simplify replacements and maintenance.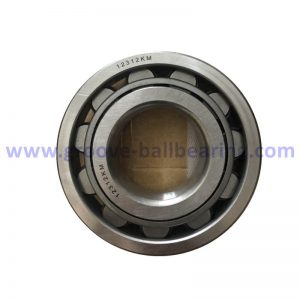 Model Number : 12312KM, NF312, 12312 ID: 60mm OD: 130mm Width: 31mm Weight: 1.85kg Supply Ability: 100000pcs/month