Machine Tool Bearings Introduction:
Machine tool bearings mainly include precision spindle bearings, screw support bearings, and rotary table combined bearings.
Precision Spindle Bearings:
Precision spindle bearings are designed and developed for all kinds of precision machine tool spindles and other high-speed and high-precision occasions. Each type of bearing has its own characteristics and is suitable for different operating conditions. Precision spindle bearing series currently mainly include precision angular contact ball bearing series ( for example HCB7014-C-T-P4S-UL), precision cylindrical roller bearing series, bidirectional thrust angular contact ball bearing, and precision tapered roller bearing.
Advantages:
High Speed
With the development of tool materials and automation, the spindle speed has reached more than 30000r/min.
Low Temperature Rise
Temperature rise is the limiting factor for high speeds and depends on bearing type, arrangement, clearance, etc.
High Load Capacity
Heavy machine tool requirements
Long Life
The life of the spindle bearing usually refers to the period of use to maintain accuracy. During this period, the spindle bearing must not lose its design accuracy.
High Stiffness
The stiffness directly affects the deformation of the part and the re-mapping error of the machined surface, and also affects the self-excited vibration.
High Vibration Resistance
Vibration resistance includes the ability to resist forced vibration and the ability to resist self-excited vibration.
Low Noise
Machine Tool Bearings – Screw Support Bearings:
Precision screw bearings are mainly divided into two categories: thrust angular contact ball bearings and combined bearings
 Thrust Angular Contact Ball Bearings:
Thrust angular contact ball bearings have high axial support stiffness and stroke accuracy, and have low friction torque.
Features:
Large axial load capacity
Accuracy class: P5, P4, P2
PA66 cage, thin and light design, reduce damping
With high axial stiffness and stroke accuracy
Mirror finish for lower friction torque and lower noise levels
Axial high rigidity design makes it adaptable to axial and radial feed adjustment
Combined Bearings:
The combined bearing is a combination of needle rollers and bidirectional thrust cylindrical rollers, so that the resulting bearing can bear bidirectional axial and radial loads, and has high precision and rigidity. Combined bearings are mainly divided into two types: ZARN type and ZARF type.
ZARN type (for example ZARN3570-L-TV) is a combined needle roller and bidirectional thrust cylindrical roller bearing, which is suitable for screw support such as CNC machining centers.
ZARF type (for example ZARF45105-TV) is a combined needle roller and bidirectional thrust cylindrical roller bearing with flange, and the outer ring is used for flange mounting.
Features:
Bearing ring is made of high-quality and high-purity bearing steel to prolong the service life of the bearing
Bearing ring is stabilized to ensure a small deformation of the bearing to maintain the high precision and long life
Cylindrical roller bearing part adopts glass fiber reinforced nylon 66 cage, high pressure injection molding
The cage of the needle roller bearing generally adopts the self-locking structure of stamped steel plate, and at the same time, glass fiber reinforced nylon 66 can also be used
Bearing raceway adopts mirror surface processing technology, which can effectively reduce the friction torque by 30% and prolong bearing service life
 Rotary Table Combined Bearings:
The rotary table combined bearing is a large combined bearing with a special structure that integrates various functions such as support, rotation, transmission and fixation.
Under normal circumstances, rotary table bearing itself has mounting holes, lubricating oil grooves, and oil holes, which can meet the different needs of various types of hosts working under various working conditions.
Features:
Bearing can withstand bidirectional axial and radial loads with high accuracy and rigidity
With compact structure, easy to guide and rotate, easy to install such features, rotary table bearings are widely used in the rotary device of large machine tools
The optimized cage guiding method improves the bearing rotation performance, and has the characteristics of high speed, high rigidity and low friction
Special heat treatment process reduces self-deformation ability and improves precision life
Accuracy class higher than P4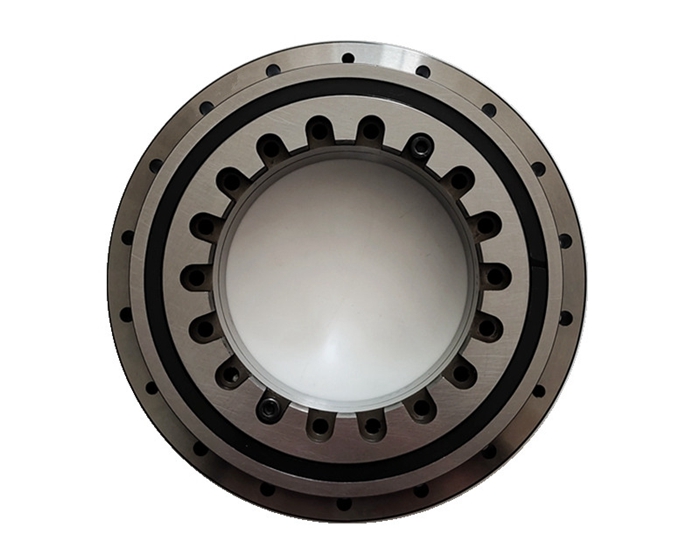 Contact Us:
If you have any questions of Machine Tool Bearings, please feel free to contact us. We will give your reply within 12 hours!