Bearing Revolving Speed Introduction:
Bearing revolving speed plays a key role in bearing temperature rise.
Each bearing model number has its own limit speed. It is up to its physical characteristics such as size, type, and structure.
The limiting speed refers to the max operating speed of the bearing (usually r/min).
Exceeding this limit will cause the bearing temperature to rise, the lubricant to dry up, and even the bearing to jam.
The speed range required by the application can help to determine what type of bearing to use. Practice has proved that it is better to work at a state lower than 90% of the limit speed.
Factors Affecting Revolving Speed:
1. Ball bearings have higher limit speed and rotation accuracy than roller bearings, so users should use ball bearings at high speeds occasions.
2. Under the condition of the same inner diameter, the smaller the outer diameter, the smaller the rolling elements, and the smaller the centrifugal inertia force of the rolling elements on the foreign raceway during operation, so it is suitable for working at higher speeds. . Therefore, at high speeds, bearings with smaller outer diameters in the same diameter series should be used. If a bearing with a smaller outer diameter is not up to the required load capacity, the same bearing can be installed in parallel, or consider using a wider series of bearings.
3. The material and structure of the cage have a great influence on the bearing revoving speed. Solid cages allow higher speeds than stamped cages.
Conclusion:
Generally speaking, deep groove ball bearings, angular contact bearings(for example 7940CDB), and cylindrical roller bearings are suit for higher speed working occasions.
For lower speed working occasions, tapered roller bearings can be take into consideration.
The limiting speed of tapered roller bearings is generally about 65% of deep groove ball bearings, 70% of cylindrical roller bearings, and 60% of angular contact ball bearings.
Thrust ball bearings have a low limit speed and only suitable for lower speed occasions.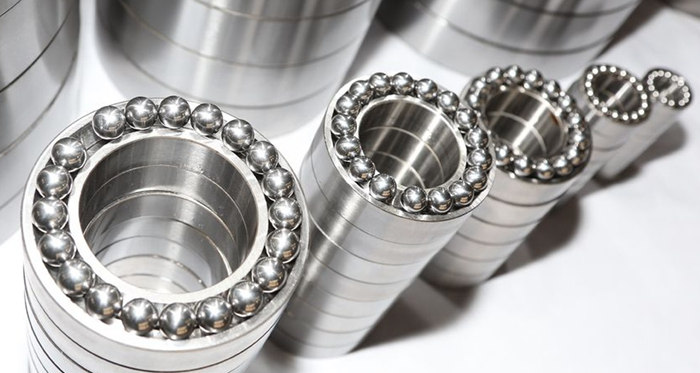 Contact Us:
If you have any questions about Bearing Revolving Speed, pls feel free to contact us. We will give you reply within 12 hours!