The Installation and Removal of Angular Contact Ball Bearings
The installation and removal of angular contact ball bearings (for example 7008CTP4SUL, 7014 CD/HCP4A , etc) is very important. Improper installation and removal methods may leads to bearing damage or bearing failure.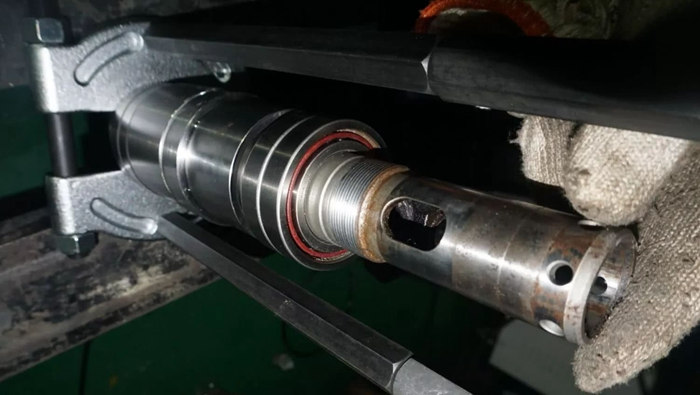 Normally we have below 3 installation and removal methods for angular contact ball bearings.
1. Push method
The use of a press to push the angular contact ball bearing is stable and reliable, and will not damage the machine and the bearing shielding machine room.
Press is divided into manual push, hydraulic press and mechanical press.
Caution: the point of force of the press should be on the center of the shaft, and it should not be biased.
2. Percussion method
The knocking force should not be applied to the rolling elements of the bearing or the holding frame, but should be applied to the inner ring of the bearing.
This method is convenient and easy to operate, but it may damage the bearing.
When the bearing is at the end of the shaft, use a copper rod or similar soft metal object lower than the inner diameter of the bearing against the bearing end cover, add a protective layer pad under the bearing, and tap it with a hammer to remove it.
Caution: The protective layer pad should be placed in a suitable position, and our force point should be appropriate.
3. Drag out method
When assembling the outer side of the bearing, the bent corner of the puller should be extended to the outside.
When assembling the inner ring, the puller must be clamped inward on the inner ring.
Caution:
1. Hook the pull hook of the puller on the inner ring of the bearing, not on the outer side, to prevent the bearing from loosening excessively or being damaged.
2. When using the puller, make the ball screw point to the core hole of the shaft and not tilt it. Also pay attention not to damage the hook and the bearing, and pay attention to the force between the bearing and the hook.
3. Take care to avoid dislocation of the hook.
4. Both legs of the puller must be lower than 90.
Contact Us:
If you have any questions of The Installation and Removal of Angular Contact Ball Bearings, please feel free to contact us.
We will reply you within 12 hours!