Spherical Plain Bearings Introduction:
Spherical plain bearings structure is simpler than that of roller bearings.
It is mainly composed of an inner ring with an outer spherical surface and an outer ring with an inner spherical surface.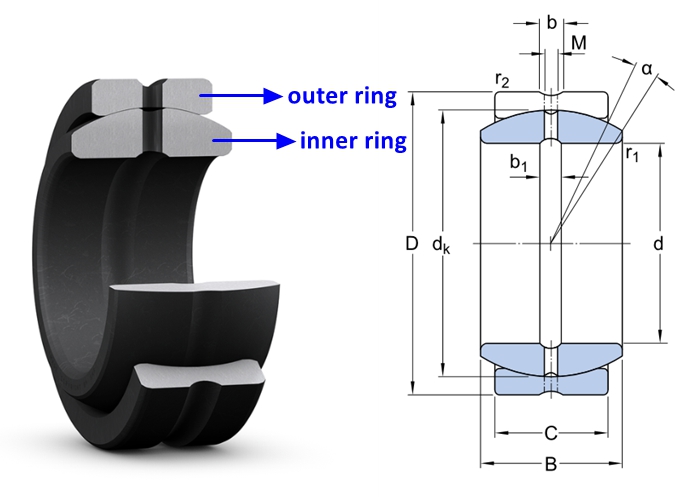 Features of Spherical Plain Bearings:
Spherical plain bearings can withstand large load.
According to different types and structures, this type bearing can bear radial load, axial load, or combined radial and axial loads.
Because the outer spherical surface of the inner ring is inlaid with composite materials, this type bearing can produce self-lubrication during operation.
Therefore, spherical plain bearings are generally used for low-speed swing motion, low-speed rotation. Moreover, they can also be tilted within a certain angle range.
Applications:
Spherical plain bearings have wide applications.
For example, hydraulic cylinders engineering, forging machine tools, automation equipment, automotive shock absorbers, water conservancy machinery and other industries.
Spherical Plain Bearings Size Chart:
| | | | |
| --- | --- | --- | --- |
| Model Number | ID | OD | Width |
| GE 15 ES-2RS | 15 | 26 | 12 |
| GE 17 ES-2RS | 17 | 30 | 14 |
| GE 20 ES-2RS | 20 | 35 | 16 |
| GE 25 ES-2RS | 25 | 42 | 20 |
| GE 30 ES-2RS | 30 | 47 | 22 |
| GE 35 ES-2RS | 35 | 55 | 25 |
| GE 40 ES-2RS | 40 | 62 | 28 |
| GE 45 ES-2RS | 45 | 68 | 32 |
| GE 50 ES-2RS | 50 | 75 | 35 |
| GE 60 ES-2RS | 60 | 90 | 44 |
| GE 70 ES-2RS | 70 | 105 | 49 |
| GE 80 ES-2RS | 80 | 120 | 55 |
| GE 90 ES-2RS | 90 | 130 | 60 |
| GE 100 ES-2RS | 100 | 150 | 70 |
| GE 110 ES-2RS | 110 | 160 | 70 |
| GE 120 ES-2RS | 120 | 180 | 85 |
| GE 140 ES-2RS | 140 | 210 | 90 |
| GE 160 ES-2RS | 160 | 230 | 105 |
| GE 180 ES-2RS | 180 | 260 | 105 |
| GE 4 E | 4 | 12 | 5 |
| GE 5 E | 5 | 14 | 6 |
| GE 6 E | 6 | 14 | 6 |
| GE 8 E | 8 | 16 | 8 |
| GE 10 E | 10 | 19 | 9 |
| GE 12 E | 12 | 22 | 10 |
| GE 15 ES | 15 | 26 | 12 |
| GE 17 ES | 17 | 30 | 14 |
| GE 20 ES | 20 | 35 | 16 |
| GE 25 ES | 25 | 42 | 20 |
| GE 30 ES | 30 | 47 | 22 |
| GE 35 ES | 35 | 55 | 25 |
| GE 40 ES | 40 | 62 | 28 |
| GE 45 ES | 45 | 68 | 32 |
| GE 50 ES | 50 | 75 | 35 |
| GE 60 ES | 60 | 90 | 44 |
| GE 70 ES | 70 | 105 | 49 |
| GE 80 ES | 80 | 120 | 55 |
| GE 90 ES | 90 | 130 | 60 |
| GE 100 ES | 100 | 150 | 70 |
| GE 110 ES | 110 | 160 | 70 |
| GE 120 ES | 120 | 180 | 85 |
| GE 140 ES | 140 | 210 | 90 |
| GE 160 ES | 160 | 230 | 105 |
| GE 180 ES | 180 | 260 | 105 |
| GE 200 ES | 200 | 290 | 130 |
| GE 220 ES | 220 | 320 | 135 |
| GE 240 ES | 240 | 340 | 140 |
| GE 260 ES | 260 | 370 | 150 |
| GE 280 ES | 400 | 155 | SKF |
| GE 300 ES | 430 | 165 | SKF |
| | | | |
| GE 4 C | 4 | 12 | 5 |
| GE 5 C | 5 | 14 | 6 |
| GE 6 C | 6 | 14 | 6 |
| GE 8 C | 8 | 16 | 8 |
| GE 10 C | 10 | 19 | 9 |
| GE 12 C | 12 | 22 | 10 |
| GE 15 C | 15 | 26 | 12 |
| GE 17 C | 17 | 30 | 14 |
| GE 20 C | 20 | 35 | 16 |
| GE 25 C | 25 | 42 | 20 |
| GE 30 C | 30 | 47 | 22 |
| GE 35 CS-2Z | 35 | 55 | 25 |
| GE 40 CS-2Z | 40 | 62 | 28 |
| GE 45 CS-2Z | 45 | 68 | 32 |
| GE 50 CS-2Z | 50 | 75 | 35 |
| GE 60 CS-2Z | 60 | 90 | 44 |
| GE 70 CS-2Z | 70 | 105 | 49 |
| GE 80 CS-2Z | 80 | 120 | 55 |
| GE 90 CS-2Z | 90 | 130 | 60 |
| GE 100 CS-2Z | 100 | 150 | 70 |
| GE 110 CS-2Z | 110 | 160 | 70 |
| GE 120 CS-2Z | 120 | 180 | 85 |
| GE 140 CS-2Z | 140 | 210 | 90 |
| GE 160 CS-2Z | 160 | 230 | 105 |
| GE 180 CS-2Z | 180 | 260 | 105 |
| GE 200 CS-2Z | 200 | 290 | 130 |
| GE 220 CS-2Z | 220 | 320 | 135 |
| GE 240 CS-2Z | 240 | 340 | 140 |
| GE 260 CS-2Z | 260 | 370 | 150 |
| GE 280 CS-2Z | 280 | 400 | 155 |
| GE 300 CS-2Z | 300 | 430 | 165 |
| GEM15ES-2RS | 15 | 26 | 19 |
| GEM17ES-2RS | 17 | 30 | 21 |
| GEM20ES-2RS | 20 | 35 | 24 |
| GEM25ES-2RS | 25 | 42 | 29 |
| GEM30ES-2RS | 30 | 47 | 30 |
| GEM35ES-2RS | 35 | 55 | 35 |
| GEM40ES-2RS | 40 | 62 | 38 |
| GEM45ES-2RS | 45 | 68 | 40 |
| GEM50ES-2RS | 50 | 75 | 43 |
| GEM60ES-2RS | 60 | 90 | 54 |
| GEM70ES-2RS | 70 | 105 | 65 |
| GEM80ES-2RS | 80 | 120 | 74 |
| GE17HO-2RS | 17 | 30 | 21 |
| GE20HO-2RS | 20 | 35 | 24 |
| GE25HO-2RS | 25 | 42 | 29 |
| GE30HO-2RS | 30 | 47 | 30 |
| GE35HO-2RS | 35 | 55 | 35 |
| GE40HO-2RS | 40 | 62 | 38 |
| GE45HO-2RS | 45 | 68 | 40 |
| GE50HO-2RS | 50 | 75 | 43 |
| GE60HO-2RS | 60 | 90 | 54 |
| GE70HO-2RS | 70 | 105 | 65 |
| GE80HO-2RS | 80 | 120 | 74 |