LFR Support Roller Bearing Introduction:
LFR support roller bearing has U groove on outer ring. It belongs to double row angular contact ball bearing.
For this series bearing,
Support roller bearings are made of high-quality bearing steel or stainless steel, processed by heat treatment and precision grinding, and filled with long-life, high-quality, multi-purpose grease.
LFR series guide rail roller bearings are the most widely used, economical and practical products among linear guide rollers. They can be adapted to cylindrical guide rails with stable operation, small error, extremely low operating noise and high operating speed.
The contact between the roller and the guide rail is two-point 60-degree contact, which has good contact performance and low running resistance, so as to achieve a relatively long service life.
The roller adopts the internal structure design of double row angular contact ball bearing and the thickened outer ring, so that the roller has a higher load carrying capacity.
The roller bearing is equipped with an eccentric wheel and a concentric shaft and is easy to install.
Dust-proof roller adopts metal dust cover (KDD) or rubber sealing cover (NPP).
Bearing Features:
1. High speed, low resistance, long life
2. Simple and convenient installation
3. Smooth operation, small error, and extremely low operating noise
Structure: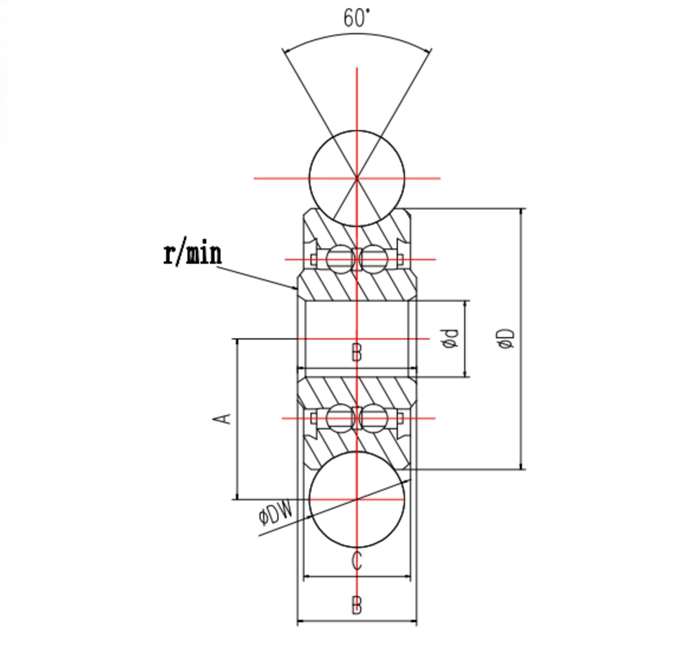 LFR Series Support Roller Bearings Size Chart:
Bearing Model
Mass(g)
Dimensions

(

mm)

dw
d
D
C
B
A
rs
LFR50/4NPP
3.5
5
4
13
6
7
8.04
0.2
LFR50/5-4KDD
7.5
4
5
16
7
8
9
0.2
LFR50/5-4NPP
7.5
4
5
16
7
8
9
0.2
LFR50/5KDD
8
6
5
17
7
8
10.5
0.2
LFR50/5NPP
8
6
5
17
7
8
10.5
0.2
LFR50/8KDD
24
6
8
24
11
11
14
0.3
LFR50/8NPP
24
6
8
24
11
11
14
0.3
LFR50/8-8KDD
24
8
8
24
11
11
14.75
0.3
LFR50/8-8NPP
24
8
8
24
11
11
14.75
0.3
LFR30/8KDD
31
10
8
26.8
11
13
16.7
0.3
LFR30/8NPP
31
10
8
26.8
11
13
16.7
0.3
LFR5201KDD
68
10
12
35
15.9
15.9
20.65
0.3
LFR5201NPP
68
10
12
35
15.9
15.9
20.65
0.3
LFR5301KDD
130
10
12
42
19
19
24
0.6
LFR5301NPP
130
10
12
42
19
19
24
0.6
LFR5301-20KDD
125
20
12
42
19
19
28
0.6
LFR5301-20NPP
125
20
12
42
19
19
28
0.6
LFR5302KDD
163
10
15
47
19
19
26.65
1
LFR5302NPP
163
10
15
47
19
19
26.65
1
LFR5201-12KDD
68
12
12
35
15.9
15.9
21.75
0.3
LFR5201-12NPP
68
12
12
35
15.9
15.9
21.75
0.3
LFR5201-14KDD
107
14
12
39.9
18
20
24
0.3
LFR5201-14NPP
107
14
12
39.9
18
20
24
0.3
LFR5201-10.4KDD
115
10
12
39.9
18
20
22
0.3
LFR5201-10.4NPP
115
10
12
39.9
18
20
22
0.3
LFR5204-16KDD
195
16
20
52
20.6
22.6
31.5
0.6
LFR5204-16NPP
195
16
20
52
20.6
22.6
31.5
0.6
LFR5206-20KDD
435
20
25
72
23.8
25.8
41
0.6
LFR5206-20NPP
435
20
25
72
23.8
25.8
41
0.6
LFR5206-25KDD
425
25
25
72
23.8
25.8
43.5
0.6
LFR5206-25NPP
425
25
25
72
23.8
25.8
43.5
0.6
LFR5207-30KDD
660
30
30
80
27
29
51
1
LFR5207-30NPP
660
30
30
80
27
29
51
1
LFR5208-40KDD
1360
40
40
98
36
38
62.5
1
LFR5208-41KDD
1360
40
40
98
36
38
62.5
1
LFR5208-42KDD
1400
50
50
110
44
46
72.5
1.1
LFR5208-43KDD
1400
50
50
110
44
46
72.5
1.1