ZKLF Series Bearings Introduction:
ZKLF series bearings are double direction thrust angular contact ball bearings.
Double driection thrust angular contact ball bearings are specially designed high-precision bearings for machine tool spindles, which can bear axial loads in two directions.
ZKLF series bearings have 2 sealing type, 2RS and 2Z.This type bearings are widely used in many applications, for example,
Tape cutting machine, decoction piece machinery, reverse dialysis equipment, vibration testing machine, high pressure reactor, auxiliary plastic machine, manual sandblasting machine, electrolytic cell, laminating machine, fertilizing machine, cylindrical gear reducer, excavator, and so on.
Bearing Structure: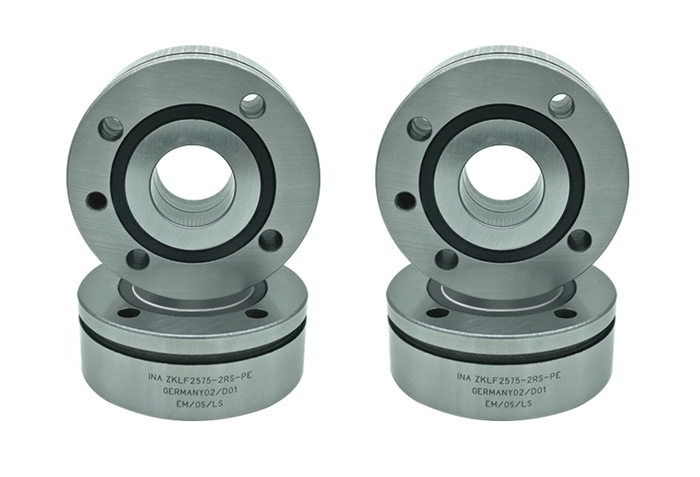 ZKLF Bearing Models:
| | | | | | |
| --- | --- | --- | --- | --- | --- |
| Shaft Dia (mm) | Model Number | Mass (kg) | d (mm) | D (mm) | B (mm) |
| 12 | ZKLF1255-2RS | 0.37 | 12 | 55 | 25 |
| 12 | ZKLF1255-2Z | 0.37 | 12 | 55 | 25 |
| 15 | ZKLF1560-2RS | 0.43 | 15 | 60 | 25 |
| 15 | ZKLF1560-2Z | 0.43 | 15 | 60 | 25 |
| 17 | ZKLF1762-2RS | 0.45 | 17 | 62 | 25 |
| 17 | ZKLF1762-2Z | 0.45 | 17 | 62 | 25 |
| 20 | ZKLF2068-2RS | 0.61 | 20 | 68 | 28 |
| 20 | ZKLF2068-2Z | 0.61 | 20 | 68 | 28 |
| 25 | ZKLF2575-2RS | 0.72 | 25 | 75 | 28 |
| 25 | ZKLF2575-2Z | 0.72 | 25 | 75 | 28 |
| 30 | ZKLF3080-2RS | 0.78 | 30 | 80 | 28 |
| 30 | ZKLF3080-2Z | 0.78 | 30 | 80 | 28 |
| 35 | ZKLF3590-2RS | 1.13 | 35 | 90 | 34 |
| 35 | ZKLF3590-2Z | 1.13 | 35 | 90 | 34 |
| 40 | ZKLF40100-2RS | 1.46 | 40 | 100 | 34 |
| 40 | ZKLF40100-2Z | 1.46 | 40 | 100 | 34 |
| 50 | ZKLF50115-2RS | 1.86 | 50 | 115 | 34 |
| 50 | ZKLF50115-2Z | 1.86 | 50 | 115 | 34 |
| 60 | ZKLF60145-2Z | 4.3 | 60 | 145 | 45 |
| 70 | ZKLF70155-2Z | 4.9 | 70 | 155 | 45 |
| 80 | ZKLF80165-2Z | 5.3 | 80 | 165 | 45 |
| 90 | ZKLF90190-2Z | 8.7 | 90 | 190 | 55 |
| 100 | ZKLF100200-2Z | 9.3 | 100 | 200 | 55 |
Suffixes Meaning for ZKLF Bearings:
PE: Increased tolerance (only for ZKLF / ZKLN series bearings)
PP: INA bearing lip seal on both sides
P5: Tolerance level: INA bearings with extremely high dimensional and geometric accuracy
RR: with Corrotect coating
RS: Bearing single lip seal
SM03: The rolling bearing grease KP2N-25 specified in DIN 51825 is used for lubrication, and the applicable temperature range is -30°C – +150°C
SM11: The rolling bearing grease K2E-25 specified in DIN 51825 is used for lubrication, and the applicable temperature range is -40°C – +80°C
SORT…: The diameter classification of needle rollers and cage assemblies, the tolerance limit is in um
TN: Plastic cage
ZW: Needle roller and cage assembly, double row
.2AP: Axial matched bearings (only for ZKLF / ZKLN series bearings)
.2RS: Rubber Iip seals on both sides
.2Z: Metal dust covers on both sides