Deep Groove Ball Bearing 6302DDU Description:
Deep Groove Ball Bearing 6302-DU is a 15mm ID ball bearing that is found in many applications.
6302DDU has two non-contact metal shields one on each side of the ball bearing.
If your application requires a 6302 ball bearing with only one seal or shield you can get this ball bearing and take one of the shields or seals off.
This 15mm ball bearing is high quality and can take electric motor demands if needed.
| | |
| --- | --- |
| Product Model: | 6302-DU, 6302DDU, 6302-2RS, 6302 2rs |
| Structure: | Deep groove ball bearing |
| Inside Diameter: | 15 mm |
| Outside Diameter: | 42 mm |
| Thickness: | 13 mm |
| Seal Type: | DDU (rubber seal) |
| Material: | Chrome steel, Gcr15, SAE51200 |
| Precision Rating: | P0-P5 |
| Brand: | NSK or other brands |
| Weight: | 0.082kg |
| Payment term: | T/T,L/C, Western Union, PayPal |
| Delivery time: | 3-7 days for small amout, 15-40 days for big amount |
NSK Package Photos: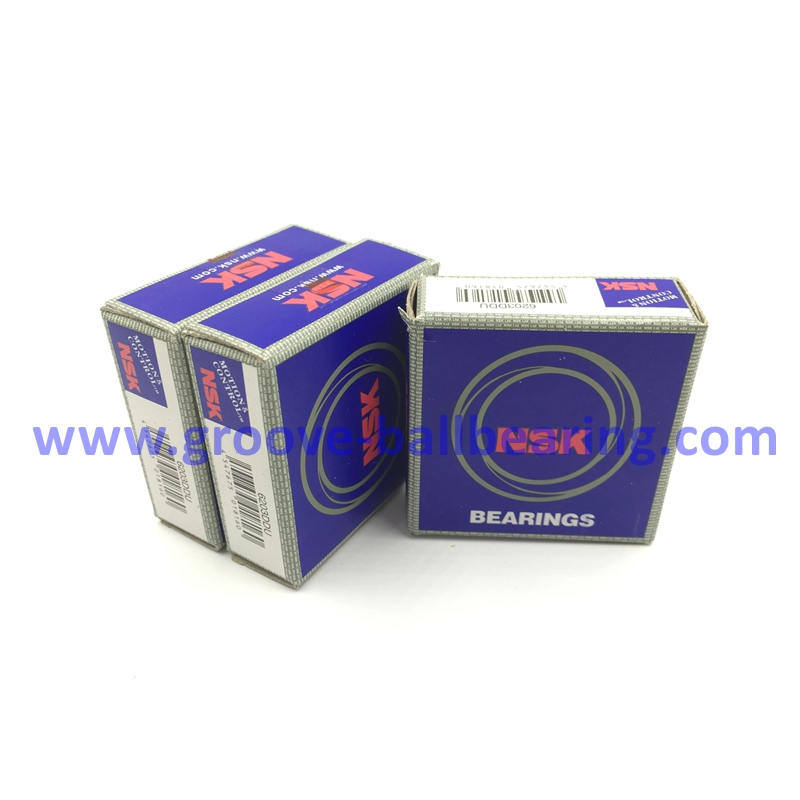 Related Deep Groove Ball Bearing Models:
| | | |
| --- | --- | --- |
| New Items | Specifications(dxDxB) | Weight/kg |
| 6300-DDU | 10x35x11 | 0.053 |
| 6301-DDU | 12x37x12 | 0.059 |
| 6302-DDU | 15x42x13 | 0.082 |
| 6303-DDU | 17x47x14 | 0.113 |
| 6304-DDU | 20x52x15 | 0.142 |
| 6305-DDU | 25x62x17 | 0.229 |
| 6306-DDU | 30x72x19 | 0.357 |
| 6307-DDU | 35x80x21 | 0.434 |
| 6308-DDU | 40x90x23 | 0.66 |
| 6309-DDU | 45x100x25 | 0.825 |
| 6310-DDU | 50x110x27 | 1.05 |
| 6311-DDU | 55x120x29 | 1.32 |
| 6312-DDU | 60x130x31 | 1.67 |
| 6313-DDU | 65x140x33 | 2.08 |
6302-DU Bearing Features:
1. Precision ball bearing 6302 deep-groove geometry for high speeds and supporting both radial and axial loads
2. Grooved ball bearing 6302-DU are single-row bearing for supporting radial loads
3. Chrome steel (51200 steel) for durability and resistance to deformity under heavy loads
4. Deep groove ball bearing 6306 DDU have rubber seals on both sides, which keep lubricant in and contaminants out